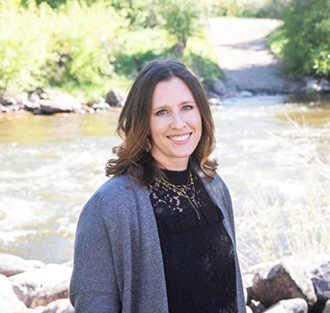 Maggie Shoop-Martinson currently resides in Colleyville, Texas, where she is the Senior Director of Financial Reporting at Brinker International. After completing the TAMS program in 2000, Shoop-Martinson continued her education at the University of North Texas and received a Bachelor of Science degree in Accounting. She then went on to pursue a Master's degree in Business Administration from Southern Methodist University.
What brought you to TAMS?
TAMS provides a unique opportunity to attend a challenging school with other high performing students. 
What did you enjoy most about your time at TAMS?
Bonding with other TAMSters late nights in Mac Café, solving physics problems together on the weekend, or headed home with others during closed weekends since I grew up in El Paso that was a little too far to go home so frequently. My TAMS friends are life-long friends.
How did your experience at UNT and TAMS shape your career path?
UNT and TAMS helped guide me into my current career – although I loved the math and science classes that TAMS allowed me to immerse myself in, TAMS allowed me to try a business elective and I found that accounting was my calling.
What was the most valuable lesson – inside or outside the classroom – that you learned at UNT and TAMS?
There is such a thing as too early, don't schedule 8AM classes.
What did you do in the year immediately after graduating?
I went straight from graduating TAMS into pursuing my bachelors in accounting – I couldn't wait to get out of college and start making money!
Please share a memorable moment or experience from your time at UNT and TAMS.
This will date me – back in 1999, I went to check the mail with another TAMSter that was anxiously awaiting her SAT results as she was applying to some prestigious colleges after TAMS. The envelope from the SAT board had just arrived – she got a 1,600 (back in those days that was a perfect score).  It was great to celebrate this achievement with her.
How would you describe UNT, TAMS, and Denton?
Denton is a great college town – lots of good places to eat, great community around the school for events like homecoming or football games. It's also great to be close to both Dallas and Fort Worth – on the weekends, if you can find a friend with a car you can explore the broader DFW metroplex with a plethora of things to do.
If you could back and do it all again, would you still attend TAMS? What would you do differently, if anything, during your time as a student?
Definitely! TAMS provided a great opportunity to make close friends, and jump start my career since I finished college 2 years earlier.
What is your greatest professional accomplishment?
One of the most challenging roles I've had is building a team from scratch in addition to preparing a company for the required accounting to do it's IPO (initial public offering) to issue shares of stock on the New York Stock Exchange. The IPO was a success, and I also made several life-long friends through that challenging process although we have moved on to other companies since.
What advice/insight do you have for TAMS alumni and students interested in your field?
Build your network of your peers in the field, and find a mentor. Unlike in college taking a test, in the real world you are allowed to "phone a friend" when you run across something you aren't certain of. These professional relationships pay major dividends over time.