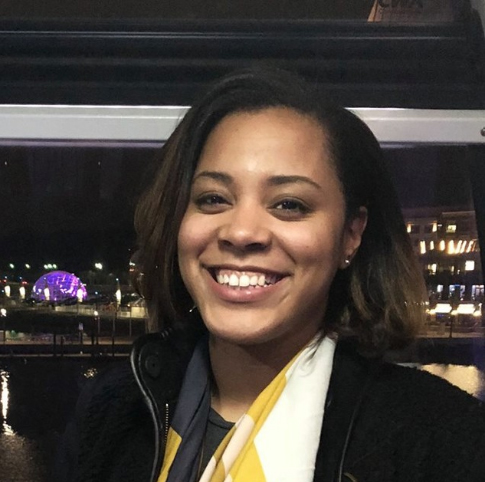 Whitney Stewart currently resides in Washington, D.C., where she is the Program Officer at the U.S. Department of State. After completing the TAMS program in 2009, Stewart continued her education at the University of Southern California and received a Bachelor of Art degree in Social Science with an Emphasis in Psychology.  She then went on to pursue a Master's degree in Social Work from Columbia University. She is currently pursuing a Ph.D. in International Psychology from The Chicago School of Professional Psychology.
What brought you to TAMS?
I was eager to apply to TAMS when I learned that I could earn two years of college at the same time as finishing high school. I also wanted to challenge myself and be with peers who had the same internal motivation. I was also encouraged when my twin sister was accepted too.
What did you enjoy most about your time at TAMS?
I learned about myself including my strengths and my weaknesses. The subject matter was pretty straight forward but it was learning to balance school work, extracurriculars, and friends that I initially struggled with. Overtime, I learned time management and prioritization which has greatly benefitted me in undergraduate and beyond. 
How did your experience at UNT and TAMS shape your career path?
At TAMS I took my first psychology course and been in love with the field ever since. My experience at TAMS later opened my mind to pursing a Ph.D. in psychology because I wasn't intimidated by research and understood the value of evidence-based research.
What was the most valuable lesson – inside or outside the classroom – that you learned at UNT and TAMS?
I learned the value of a community. TAMS was such a unique experience because you were housed with such outstanding, intelligent people. You met all kinds of people from diverse backgrounds which was something I hadn't really experience before. This experience encouraged me to stay out of my comfort zone and learn more about the world.
What did you do in the year immediately after graduating?
Following graduation, I went to the University of Southern California to purse a bachelors in social science with an emphasis in psychology. 
Please share a memorable moment or experience from your time at UNT and TAMS.
A few of my classmates were into hip hop dancing so we formed a group. We would practice after class and create our own chorography. We would perform at multiple events at TAMS but strived to perform at the larger UNT talent show. In our final year, we were accepted in the talent show and received a standing ovation for our performance. It was an amazing experience. 
How would you describe UNT, TAMS, and Denton?
TAMS is nestled in a large but quiet university. Denton was community-oriented and thankfully UNT and its students were welcoming of younger students running around to attend classes or events. I always felt welcome and remember Denton fondly. My positive experience at UNT encouraged my cousin to attend the school this fall.
If you could back and do it all again, would you still attend TAMS? What would you do differently, if anything, during your time as a student?
I enjoyed TAMS and would definitely attend again! The only thing I wish I did more of was capitalize on the resources at UNT. For example, I had colleagues who supported university research which was beneficial to them in their undergraduate program.
What is your greatest professional accomplishment?
Currently I'm doing what I've always wanted to do which is work for the U.S. government on child protection programming. 
What advice/insight do you have for TAMS alumni and students interested in your field?
I didn't go the traditional science or mathematics route such as becoming a medical doctor or an engineer but my experience at TAMS greatly influenced my work in the humanities and social science field. It's okay to pursue a career that's non-traditional. The path may not be as straight forward but every step will be just as exciting as you learn more and more about what drives you.