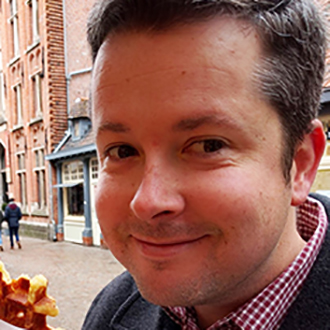 Travis Owens currently resides in Austin, Texas, where he is a Mechanical Engineer at Apple, Inc.  After completing the TAMS program in 2002, Owens went on to pursue a B.S. from Texas A&M University, and then a M.S. and Ph.D from the University of California – Berkeley.
What brought you to the Texas Academy of Mathematics and Science (TAMS)?
I've always looked up to my older brother.  He was much more introverted and intellectual than I was growing up, but I got to see how the TAMS experience totally transformed him.  Suddenly he had tons of friends, engaged with his course work and extracurriculars and was so much happier.  I think being in a supportive environment of peers with the right challenges really allowed him to grow.  I wasn't being challenged in high school and thought that TAMS would be a great adventure and a place where I could grow as well.
What did you enjoy most about TAMS?
The deep connections and friendships made by living and studying with such a diverse group of talented people.  Waking up and going to class with your friends and hanging out to play games between physics homework sessions or late night cram fests before BIo exams.    
How did your experience at the University of North Texas (UNT) and TAMS shape your career path?
TAMS definitely opened me up to a world of opportunity I didn't know existed.  It allowed me to understand my capabilities and explore and refine my interests.  It also put me in an environment where summer research positions, scholarship applications and early decision applications were the norm.
What was the most valuable lesson – inside or outside the classroom – that you learned at UNT and TAMS?
Preparation can only take you so far, at some point you just have to go for it.  Don't worry too much about the future and instead do what is right today.  Put in the hard work and reward yourself when it pays off, and more importantly even if it doesn't.
If you earned a bachelor's degree, what did you do in the year immediately after graduation?
I worked a summer internship in a research lab at UT Austin.  I worked on flexure-based joints and linear motor control for high-precision stages.  I got to learn about LabViEW software, and mathematical programming languages before starting my first year at Texas A&M in Mechanical Engineering.
Please share a memorable moment or experience from your time at UNT and TAMS.
Walking to Sukhothai II, Biology lecture on farts… ohh and meeting my future wife
How would you describe UNT, TAMS, and Denton?
Denton is a small-ish north Texas town largely supported by the university.  UNT has a diverse mix of on-campus and off-campus population with a strong art and music base, with small herds of nerdy kids roaming the grounds...those are the TAMSters.  
If you could go back and do it all again, would you still attend TAMS? What would you do differently, if anything, during your time as a student?
Absolutely.  It was one of the best decisions I've made.  I would probably take more electives outside of math and science, and push myself to do more social events.
What is your greatest professional accomplishment?
I worked at a startup company for many years and worked with a great team of people to design, build, program, and manufacture a tool for the semiconductor industry.  I got to experience that from beginning to end and buried my head deep in the work and pushed forward without knowing where it would lead.  When I looked up I was surprised how far it had come and was really happy with what we were able to build.  To be part of designing a product, building a company up, hiring and training a manufacturing team, building up manufacturing in Asia, working with customers and vendors was really gratifying.
What advice/insight do you have for TAMS alumni and students interested in your field?
Mechanical engineering is a fairly generic field for science and math where you can specialize in a wide variety of fields.  If you're not sure what you want to do I would definitely recommend it, because once you find your passion you can leverage your education and skills to go after it.