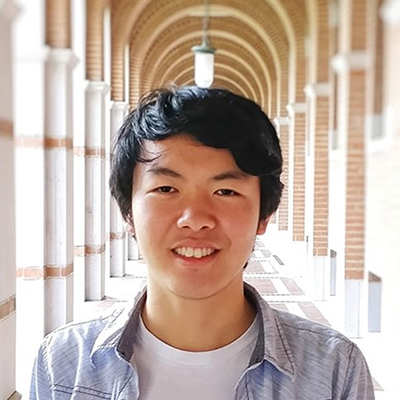 Tan Yan currently resides in Pittsburgh, Pennsylvania, where he will soon begin attending Carnegie Mellon University and majoring in Computer Science.  He is a Class of 2018 graduate. 
What brought you to TAMS?
I found the curriculum at my old high school intellectually unstimulating, plus my father was a faculty at UNT, so I learned about TAMS early on and always thought it was the perfect opportunity for me.
What did you enjoy most about your time at TAMS?
The TAMS culture of always laughing together, suffering together, and supporting each other. Reminiscing about my TAMS friendships and bizarre experiences always brings a smile to my face.
How did your experience at UNT and TAMS shape your career path?
TAMS convinced me to stay far, far away from trying to pursue a career in medical practice, and to stay farther away from my future-doctor-friends' surgical tables.
What was the most valuable lesson – inside or outside the classroom – that you learned at UNT and TAMS?
Studying is an art. An art that can be perfected by strategic procrastination, short-term memory, and caffeine. Mostly caffeine.
Please share a memorable moment or experience from your time at UNT and TAMS.
In the middle of the night, my roommate and I discovered multiple cockroaches in our room. Enough said.
How would you describe UNT, TAMS, and Denton?
I don't really know how to differentiate between the three.
If you could back and do it all again, would you still attend TAMS? What would you do differently, if anything, during your time as a student?
Yes, of course I would choose TAMS again. I'll probably try to practice more for the STEM Olympiad qualifiers and try harder on my college essays, because I found out that UT Austin wasn't a "safety school"—the hard way.
What advice/insight do you have for incoming TAMS students?
It's okay to be a room rat—occasionally.
Other TAMS students are your best resource for everything.
JETS is the best club. MAO gets you into MIT. But they're both subcommittees of Teach and Learn so it ultimately doesn't matter.
Enjoy all the time you spend here, because the ride will be over before you know it.