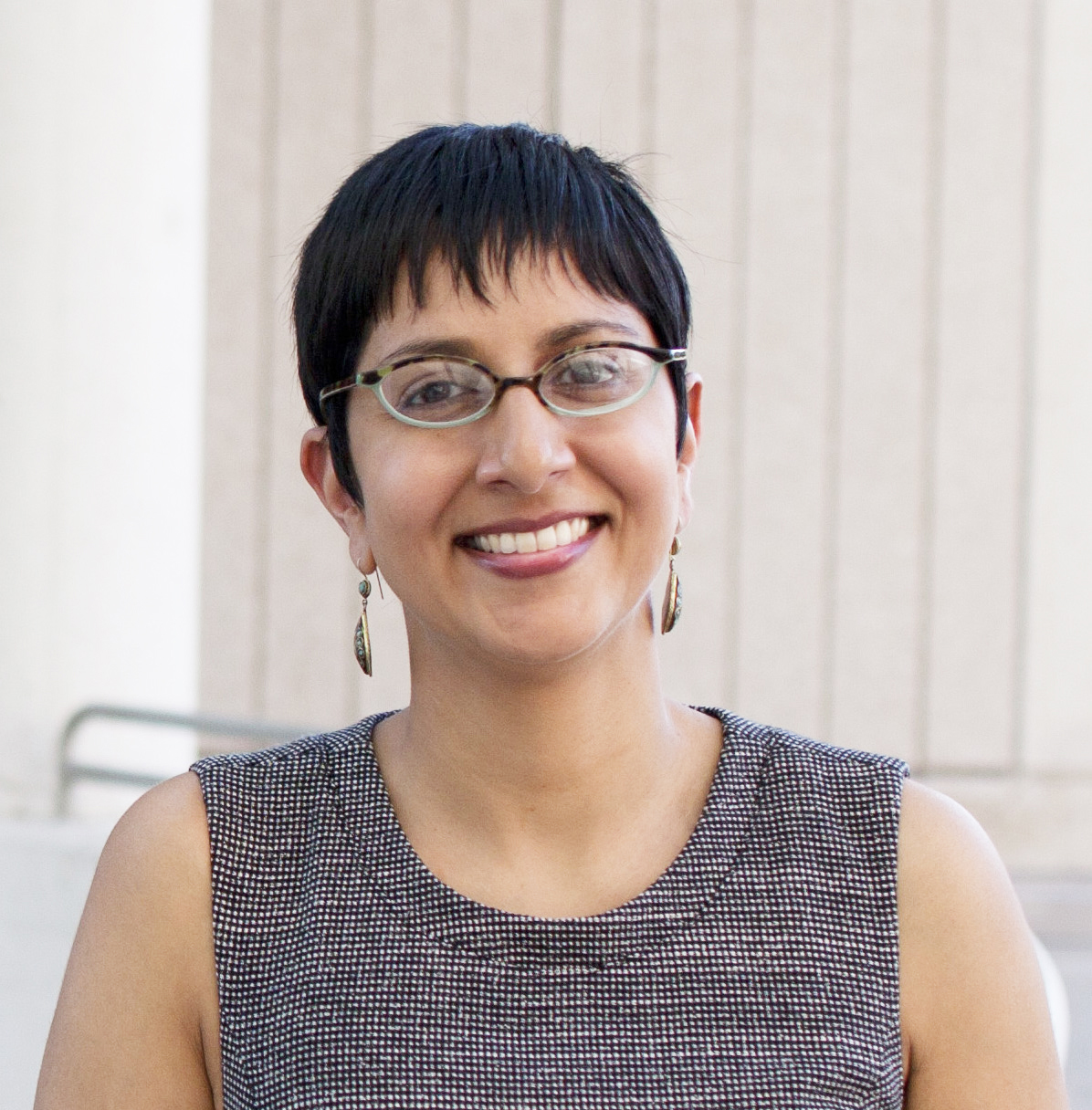 Sapna Kumar currently resides in Houston, Texas, where she is a professor at the University of Houston Law Center and the Co-Director for the Institute for Intellectual Property and Information Law.  After completing the TAMS program in 1996, Kumar pursued two very different degrees at UT Austin—a B.S. Mathematics and a B.A. Philosophy.  She then went on to become a registered patent attorney.
What brought you to the Texas Academy of Mathematics and Science (TAMS)?
I was bored at my home high school and had always wanted to attend a boarding school. I also liked the idea of being able to earn so many college credits before graduating from high school.
What did you enjoy most about TAMS?
I met my future spouse, Matt Sayler ('96), in TAMS and made good friends that I still keep in touch with.
How did your experience at the University of North Texas (UNT) and TAMS shape your career path?
All of the credits I earned at TAMS allowed me to earn two very different degrees at UT-Austin (B.S. mathematics, B.A. Philosophy) in only three years. TAMS also provided me with the broad science foundation that allowed me to become a registered patent attorney.
What was the most valuable lesson – inside or outside the classroom – that you learned at UNT and TAMS?
TAMS taught me to take risks and try things that I think I'm not good at. I signed up for an introduction to real analysis class my senior year, knowing that I was bad at proofs. I had a D going into the final exam and wanted to drop, but the professor and my classmates talked me out of it. A few days before the final, everything clicked, and I earned the highest grade on the final exam and a B in the class. That experience directly led to me majoring in math in college.
If you earned a bachelor's degree, what did you do in the year immediately after graduation?
I took a year off before law school, travelled for a month, and then worked at a start-up as a systems analyst. I'm really glad that I took time off—the work experience made me a better law student, and the work experience helped me land my first job as a patent attorney.
Please share a memorable moment or experience from your time at UNT and TAMS.
I was involved with the Dull Roar music group, and loved all the trips to the Meyerson!
How would you describe UNT, TAMS, and Denton?
TAMS provided me with an opportunity to get out of my comfort zone and to become more independent. I enjoyed getting to explore campus and Denton with my friends.
If you could go back and do it all again, would you still attend TAMS? What would you do differently, if anything, during your time as a student?
I would absolutely choose TAMS again! But this time, I would spend more time meeting people and getting involved with student organizations, and spend less time stressing out about grades and colleges. I had worried that not attending an elite university would hurt my career, but that wasn't the case at all.
What is your greatest professional accomplishment?
I was recently awarded a Fulbright-Schuman Innovation Grant to spend Spring of 2019 in France and Germany researching the formation of the Unified Patent Court in Europe.
Did you pursue any other career paths prior to your current occupation? If so, please describe your occupational history.
I started in private practice as an attorney and quickly realized that my real interest was in research and teaching. I applied for fellowships, and was fortunate to get a two-year position as faculty fellow at the Duke University School of Law, and after that, a judicial clerkship on the U.S. Court of Appeals for the Seventh Circuit. These two positions made it much easier for me to land a tenure-track professorship at the University of Houston Law Center.
What advice/insight do you have for TAMS alumni and students interested in your field?
Look at the opportunities that are available to you and ask yourself what you need to become a more well-rounded person. And resist the temptation to specialize too early--I originally thought I would become an astrophysicist and ended up as a law professor!