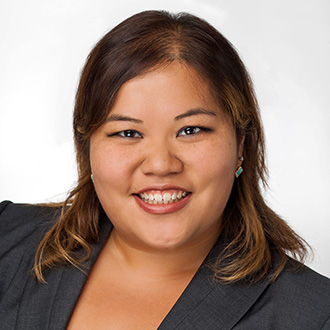 Nisa Satumtira Morey, Ph.D. lives in San Luis Obispo, California where she is a Lecturer of Chemistry at California Polytechnic State University. After completing the TAMS program in 2003, Dr. Morey earned a B.A. in Chemistry from Austin College in 2006 and a Ph.D. in Inorganic Chemistry from the University of North Texas in 2012.
What brought you to the Texas Academy of Mathematics and Science (TAMS)?
In high school, I had aspirations of earning an M.D. and becoming a pediatrician. My high school, while reasonably challenging, didn't offer the environment I needed to succeed in science and math. I felt lost amongst my peers and sought a school that would challenge me and help me achieve my career goals. A family friend had kids my age who attended TAMS and encouraged me to apply. Stepping foot on campus was overwhelming at first, but I quickly found that TAMS was the home I had always been looking for.
What did you enjoy most about TAMS?
I enjoyed the atmosphere and encouragement from both my peers and the faculty/staff. I never felt excluded from any one club or group. The opportunities that TAMS presented to me were immeasurable.
How did your experience at the University of North Texas (UNT) and TAMS shape your career path?
My experiences at TAMS helped me realize that school could be challenging, and that I needed to dedicate a lot of time and energy into it if I wanted to succeed. This initial commitment to learning has stayed with me today, and I now know that no feat is ever achieved unless work and passion are put to it.
TAMS was also the first place where I began to question whether or not my desire to be a M.D. were realistic.... and this wasn't a bad thing. I think that I had a misconception about what it would be like to be a medical professional when I was in high school. While I still loved science, medicine was not necessarily where I would end up.
What was the most valuable lesson – inside or outside the classroom – that you learned at UNT and TAMS?
The most valuable lesson I learned was to be okay with what you are, both as a person and as a student.
TAMS is a place where stereotyped 'nerds' and 'misfits' come together and really learn about who they are as intellects. It's a place where you don't have to be worried about being unpopular. And it's a place where you realize that there is absolutely nothing wrong with you. TAMS is also a place where you are challenged academically, and for the first time in your life you may not be the top student. That is totally okay!
If you earned a bachelor's degree, what did you do in the year immediately after graduation?
Right after I graduated from TAMS, I worked in the food industry for the summer to earn money for the upcoming school year. I also hung out with friends and spent time with my siblings.
Please share a memorable moment or experience from your time at UNT and TAMS.
Many, many memories stand out. But one that I'll treasure the most would be the hallway study parties we would have for physics. My roommate and a cluster of girls in the same hallway would all sit outside our rooms the night before a physics exam and study... usually with snacks. It was brightly lit in the hallway, and if anyone wanted to sleep, they could in their rooms without being disturbed. We had many laughs out there, and it was a fun time, but also a serious time.
How would you describe UNT, TAMS, and Denton?
UNT and Denton are like a mini University of Texas at Austin and Austin! The community is small, positive, and vibrant. TAMS is a great place to be challenged, both mentally and academically. It is a place where you grow and learn who you are.
If you could go back and do it all again, would you still attend TAMS? What would you do differently, if anything, during your time as a student?
I would definitely still attend TAMS. If I could do anything differently, I would have focused on getting more math credits out of the way so that I could have double-majored in college!
What is your greatest professional accomplishment?
I earned my Ph.D. in Chemistry from UNT in 2012 and have had the opportunity to teach in several different parts of the country including Burlington, VT; Portland, OR; and San Luis Obispo, CA.
What advice/insight do you have for TAMS alumni and students interested in your field?
If you're interested in teaching, get as much experience as possible with as many different audiences as possible. I have used the techniques I learned teaching school children in my college-level classes... it's amazing what overlaps students have, no matter the age!