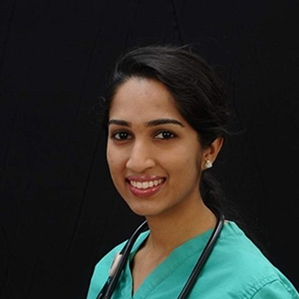 Meghana V. Kashyap currently resides in Philadelphia where she is a Resident Physician in General Surgery at the University of Nebraska Medical Center and a Fetal Surgery Research Fellow at the Children's Hospital of Philadelphia. After completing the TAMS program in 2007, Kashyap continued her education at Emory University and received a Bachelor of Science degree in Neuroscience and Behavioral Biology.  She then went on to pursue her M.D. at the University of Texas Southwestern Medical Center.  
What brought you to TAMS?
My family was moving from Omaha to Fort Worth. At the time, I was in the pre-IB program at my public high school, and we were looking for a public school that had the equivalent academic rigor. When the schools near my dad's new work were not up to par, his boss recommended we explore TAMS as an option. It seemed like an excellent, and challenging, opportunity. I applied after freshman year of high school and it allowed me to skip one year of high school. This was exciting for me at the time because of my interest in pursuing medicine/surgery, knowing that would be a long road of schooling.
What did you enjoy most about your time at TAMS?
I definitely enjoyed the independence and fostering relationships with my classmates while living together. The late night cram sessions and the silly pranks we used to pull together will forever live on. We all share a very unique experience and have similar memories of our time at TAMS, including Bruce Hall, professors, and the clubs and dances. I love reliving these at reunions and on the TAMS Facebook page.
How did your experience at UNT and TAMS shape your career path?
It helped me continue the path I was on, which is why I chose the program. It also gave me a head start in figuring out extracurricular activities to join in undergrad.
What was the most valuable lesson – inside or outside the classroom – that you learned at UNT and TAMS?
I think the most valuable lesson I learned at TAMS was that nobody advances in their life and career without the help of others. Collaboration is the key to success. TAMS gave me a set of study buddies, clubs of peers with similar interests, and friends who never let me stay isolated. There were ups and downs in the 2 years, as with any experience, but when I look back it is always with fondness of those relationships fostered.
What did you do in the year immediately after graduating?
I went to undergrad at Emory University
Please share a memorable moment or experience from your time at UNT and TAMS.
My favorite times at UNT were exploring the campus. We used to go on nighttime runs throughout the campus, through the stadium, and between the buildings. It was actually a really nice terrain for a workout. Some nights for study breaks, we would also go to the music buildings and spend time chatting in the different practice rooms. The best, by far, was playing hide and seek at the library. We got in trouble for this a few times, but it was always a great time!
How would you describe UNT, TAMS, and Denton?
UNT, TAMS, and Denton have all changed quite a bit since I graduated. But when I have visited in the past few years, it definitely seems to be improved. I hope the new classes of students are enjoying their time and taking advantage of all the opportunities of college life under the protection of being in high school.
If you could back and do it all again, would you still attend TAMS? What would you do differently, if anything, during your time as a student?
I would definitely attend again, but I think my subsequent choices would be a bit different. While getting to cut off years of undergrad sounds great, and is cost saving, I think a full four years of traditional college is important for personal growth, especially for TAMS students who are already away from home at a young age. As far as what I would do differently during my time, I'd say nothing. Those experiences shaped who I am today, and I can attribute my successes to even the most challenging moments.
What is your greatest professional accomplishment?
I am yet to accomplish anything as a professional but matching into a surgical residency when there were some odds against me was a very proud moment. I hope I can contribute something to the field of surgery, whether through my research or patient care, and continue representing the great TAMS alumni.
What advice/insight do you have for TAMS alumni and students interested in your field?
It's easy to get careless about your discipline when you gain independence that you didn't previously have. Keep on a good sleep and study schedule, or figure out what works best for you to ensure successful habits in undergrad. These all translate to how you fare during the grind of medical school. Also, keep an open mind. You may decide medicine isn't for you, and that's perfectly fine. The worst thing you can do for yourself is push through, burn out, and realize that this profession was never for you. You really have to love medicine and patient care to commit the time and effort required.