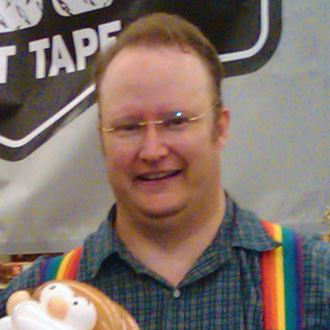 Marc Feickert lives in Colorado Springs, Colorado where he works as an IT Semantic Architect for UnitedHealth. He also considers himself to be a Balloon Master (more on that later). Feickert completed the TAMS program in 1993 and earned a B.A. from the University of North Texas, and a M.A. in Generative/Theoretical Linguistics in 2008 from the University of Utah.
What brought you to the Texas Academy of Mathematics and Science (TAMS)?
My Dodge Colt!
Okay fine... TAMS came to me. I was part of the third or fourth graduating class, so it was in its infancy. I think the administrators were advertising to Texas school districts and inviting people to apply based on Comprehensive Tests of Basic Skills and other academic performance.
What did you enjoy most about TAMS?
TAMS shaped me socially. I miss, more than anything, McConnell Hall and all those who made it what it was. I finally got to know people and make real friends beyond what I had ever experienced previously; I threw myself into it, revealing a personality about myself I had never known before.
How did your experience at the University of North Texas (UNT) and TAMS shape your career path?
TAMS shaped my attitude. None of the studies I did there directly applied to where I would go in life, but I finally figured out that grades required study, and that relationships, both professional and personal, required work and investment to last. Beyond all, TAMS taught me that I was a worthwhile person to others, and it helped show me how to present myself confidently to the world.
What was the most valuable lesson – inside or outside the classroom – that you learned at UNT and TAMS?
People are fragile. Love them honestly and help them better themselves and you. The bonds you forge now will serve you well later in life, sometimes more than your genius brain will.
If you earned a bachelor's degree, what did you do in the year immediately after graduation?
I moved out of state to consider a teaching career, and I ended up finding a latent skill in editing. I got hired by the corporate arm of the The Church of Jesus Christ of Latter-day Saints and began a 10 year run that shaped me for a good career that could incorporate my academic skills along with my techie ones.
Please share a memorable moment or experience from your time at UNT and TAMS.
Late at night I was awakened by the Resident Assistant pounding on my door. I rose, fuzzy-headed, to wonder why my room was so warm, and why I continued to hear Niagara Falls in the background.
Turns out that a hot water pipe had burst behind my closet (I was in a third floor room with a shared suite bathroom). There was nothing harmed in my room, but when I arrived downstairs in Smitty Study, I met up with a Junior friend of mine (Sonja Knickrehm Gross) who lived in the same room two floors below.
Poor Sonja. Her Senior roommate was out of town and had left a very cluttered floor, and all Sonja could do was talk about "water coming out of the lights! Water...coming out of the outlets! All the clothes on the floor are floating!!!"
Two or three hours later it got fixed, and I was allowed back in bed; however, Sonja had some fun ahead of her.
How would you describe UNT, TAMS, and Denton?
I returned to UNT after TAMS to complete my B.A. I adore Denton, and the only sliver of university loyalty I feel goes to UNT. I love the school, and the faculty I worked with was fabulous.
I can't say much about TAMS... it was a very different beast back then. I miss the life it granted me, and I wish to go back and improve my personal focus and behavior. But in the absence of time travel, I must take my lessons and move forward. I think now that TAMS is more respected in the state and nationally, and it is a wonderful opportunity. I just hope it still offers the life beyond academics that helped me so much.
If you could go back and do it all again, would you still attend TAMS? What would you do differently, if anything, during your time as a student?
I would, especially with the hindsight I have.
I would also study more. I got too lax by relying on my own intelligence. It served me very well the first year, but the second year took a toll. There was so much knowledge to be had, and I arrogantly passed it up.
I would also spend every weekend being the TAMS Balloon Man, twisting joy and smiles throughout the dorm! I wish I'd discovered the talent back then!
What is your greatest professional accomplishment?
I was invited to twist balloon creations for an event in Salt Lake City, UT. I made a caricature of the esteemed Red Green (actor Steve Smith), and was able to give it to him and continue working balloons while he signed rolls of duct tape for fans. Some people have met presidents and leaders;  I have hung out with the best handyman in the world. Let's see if any other TAMSter has bragging rights of that sort!
Did you pursue any other career paths prior to your current occupation? If so, please describe your occupational history.
I thought at first to go into medicine as a surgeon, then changed to optometry. I finally decided that linguistics was the joy of my life. I fortunately got molded by a good mentor into technical areas of search architecture, natural language structures, and semantic web.
But the best professional path I discovered and followed in my mid-30s was balloon artistry! That's a job that can go forever and keep the happiness flying!
What advice/insight do you have for TAMS alumni and students interested in your field?
Math and science are everywhere, even in the liberal arts! If natural language searching, speech to text technology, or language cognition interest you, do not be afraid to move away from a STEAM major. It all comes around, and the knowledge of a linguist, especially one who can work in the technical realm, is indispensable in these kinds of fields.