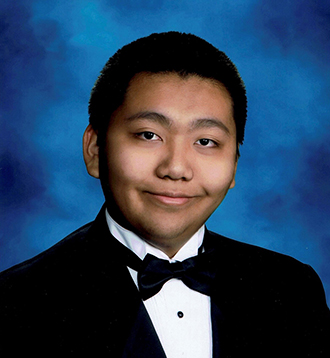 Jeffrey Wang currently resides in McKinney, Texas, but he will soon be moving to Austin in the fall where he will be attending the University of Texas and majoring in Computer Science and Business.  He is a Class of 2018 graduate. 
What brought you to TAMS?
I came to TAMS hoping for a better educational experience. I felt like I had outgrown my former high school; while I had a great time there, I knew I would thrive even more at TAMS. It's a gamble that everyone undertakes when deciding to attend TAMS. Sure enough, the gamble paid off—my last two years have been amazing!
What did you enjoy most about your time at TAMS?
I've got to say I've loved the immense freedom I enjoyed as a student on the UNT campus complemented by the tightness of the TAMS community. Getting to do whatever I needed to do as a high school student has given me an opportunity to express my interests without interference, and I've gained a lot of responsibility from living on my own. I've learned that curfew might be a limit on our immense freedom, but it's been a driving factor behind TAMS students being so close—we always live together, most of us eat together, we study together, and we have fun together. That's unparalleled, even among college students. I will miss the unique bond of TAMS students that I have been privileged to enjoy over these past two years.
How did your experience at UNT and TAMS shape your career path?
The caliber and diversity of knowledge that TAMS students possess has been a strong driving factor in pushing me to further and expand myself intellectually and in my career path. I was able to explore the wonderful world of research thanks to the generous TAMS Summer Research Scholarship. While I am no longer actively pursuing research as a life goal, I'm no longer a stranger to it. Moreover, being exposed to the various aspirations of TAMS students allowed me to expand mine too. I came in dead set on computer science. Now, I've also developed a serious passion for business like some of my classmates.
What was the most valuable lesson – inside or outside the classroom – that you learned at UNT and TAMS?
Before coming to TAMS, I was a workaholic in school and could barely take a break. At TAMS, I learned to take it easier and socialize while still keeping on top of my academics. Even though I am an introvert, I became more extroverted while at TAMS and I've made a great number of friends in this short span of 2 years, whether with students, faculty, TAMS administration, or the McConnell Hall staff. At the end of the day, I've learned to focus on what matters in the long run, not just grades.
Please share a memorable moment or experience from your time at UNT and TAMS.
I've gone to the Denton Square on a few birthdays with friends and they were all especially memorable. We went to Escaping the Square twice (an escape room). Each time, we had tons of fun because each of us were able to put our smart TAMS minds together to figure out how to escape.
How would you describe UNT, TAMS, and Denton?
Denton's a nice little quaint college town. Each part of it is quite different from the other, giving it a diverse identity. (For instance, Rayzor Ranch has a different feel than Denton Square. Loop 288 seems more like a rustic version of the new bustling mega shopping center that is Rayzor Ranch.)
UNT echoes this diversity quite well. From the historic northeastern core of campus to Gateway Center, each part of campus feels a bit different. The sprawling trees throughout the campus are beloved by many, including me, and I'm sure we all love seeing college squirrels emerge from these trees, especially albino ones that bring us good luck on our tests.
TAMS is an enclave of brilliance on the UNT campus. TAMS students are innately different from UNT students, and we're proud of it. We may live in the unassuming McConnell Hall, but we do great things on campus and especially in our dorm. From making the next award-winning robot to establishing the next SciOly and DECA champions, we form a special community and do great things.
If you could back and do it all again, would you still attend TAMS? What would you do differently, if anything, during your time as a student?
I would still attend TAMS, and I wouldn't change anything. (Maybe a few small things, but overall, I am very satisfied with what I've been able to accomplish at TAMS these past two years.)
What advice/insight do you have for incoming TAMS students?
You're going to have a lot of fun here at TAMS if you balance work and play. Plan your classes carefully, and then work at them bit by bit. An A is an A, and a B is a B, so don't stress for absolute perfection. Go to class even if you don't want to, unless you want to pull all-nighters to study for your tests. But don't pull all-nighters because they are not good for your health and won't help you study. Since you live on your own, self-care is especially important for each and every TAMS student! During the day, stay awake (hopefully without Monster) and hang out with your friends when you don't have class. Enjoy these two years, and go out and do what makes you happy! (Within reason of course; don't get docked.)