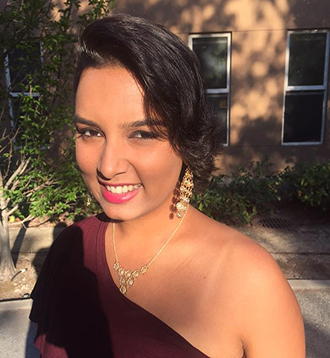 Harshitha Ramesh lives in Sunnyvale, California where she is a Customer Success Engineer for ThoughtSpot. After completing the TAMS program in 2011, Ramesh earned a B.S. in Symbolic Systems from Stanford University in 2015.
What brought you to the Texas Academy of Mathematics and Science (TAMS)?
I knew I was good at Math and Science, but was unsure whether I wanted to study it further in college. TAMS gave me a good opportunity to explore my interests while being challenged.
What did you enjoy most about TAMS?
I enjoyed the tight-knit community at TAMS. It was nice to be able to take classes with the same group of people and also develop lifelong friendships. (You don't get that in college. Everyone's doing their own thing.)
TAMS kept us busy, but we relied on each other for support throughout the two years and beyond.
How did your experience at the University of North Texas (UNT) and TAMS shape your career path?
During my time at TAMS, I found out that I liked variety and took classes in Music Theory, Philosophy, and Voice.
I went on to take Computer Science classes and eventually chose an interdisciplinary major, Symbolic Systems, for which I got to take classes across several fields, including Linguistics, Computer Science, Psychology, Philosophy, Education, and Design.
What was the most valuable lesson – inside or outside the classroom – that you learned at UNT and TAMS?
I know some people were dead sure they wanted to become a doctor as soon as they received a toy stethoscope when they were five. That's totally fine! If you don't know exactly what you want to do, that's fine too!
I still don't know what I want to do, and that's ok. I try to do things that engage me intellectually and make a difference in the lives of those around me.
If you earned a bachelor's degree, what did you do in the year immediately after graduation?
I joined a startup in Palo Alto called ThoughtSpot. I started off as a Learning and Development Specialist and helped with technical training. Now, I am a Customer Success Engineer and am traveling often to help different clients implement our product.
Please share a memorable moment or experience from your time at UNT and TAMS.
After-Prom Senior Year was a lot of fun. There were many friends that I met towards the end of my time at TAMS, so it was exciting and sad at the same time to have just met them, and to have to say goodbye so soon. But goodbye turned into "we'll see each other again."
I've gotten to see other alumni throughout the years, including even half-way around the globe, just by coincidence of being there at the same time.
How would you describe UNT, TAMS, and Denton?
UNT is a pretty big university campus with a healthy hipster population and abundant squirrels. TAMS is an enclave of nerdom within UNT. Denton is a charming little university town that's far enough away from Dallas and little enough to be called a town.
If you could go back and do it all again, would you still attend TAMS? What would you do differently, if anything, during your time as a student?
I would still attend TAMS. I wish that I had met my current set of friends from TAMS at beginning of junior year.
What is your greatest professional accomplishment?
I just graduated from Stanford University in 2015, so I don't have anything too impressive to my name. However, I set up my company's very first training curriculum for engineering, and I'm pretty dang proud of it.
What advice/insight do you have for TAMS alumni and students interested in your field?
I think everyone (pre-med, engineering, mathematicians, etc.) should take an Introduction to Computer Programming class. Whether or not you decide to take further classes, you live in a digital world and must aim to understand its underlying foundations. Plus, programming equips you with logical and analytical capabilities that transcend software engineering.