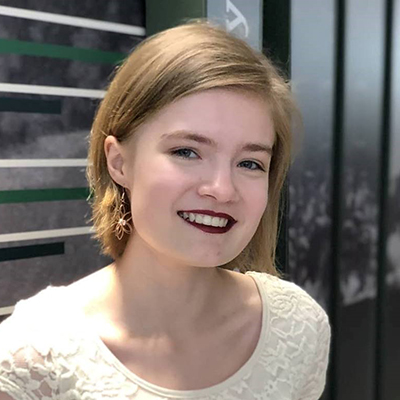 Cari Reinert currently resides in Richardson, Texas, and will be attending the University of Texas at Dallas as a McDermott Scholar in the fall and double-majoring in Physics and International Political Economy.  She is a Class of 2019 graduate. 
What brought you to TAMS?
I remember the day my pre-calculus teacher told me about TAMS. I spent hours combing through the TAMS website, reading the student newspaper, and poring over the handbook. From that day onward, I decided that this was my dream school. Because I had moved to my old school from out-of-state and was ahead in math classes, I knew that I would run out of upper-level math classes to take by my junior year. I craved a stronger academic challenge that my local high school didn't have the capacity to offer.
As I researched more about TAMS, I also discovered the plethora of extracurricular and social opportunities at the academy. That's what really drew me in – I wanted a real community where I wasn't just perceived as "the smart kid" – where I could be myself unapologetically. That community is what ultimately brought me to TAMS, and that community is what kept me in TAMS.
What did you enjoy most about your time at TAMS?
During my junior year, I really enjoyed the social network at TAMS. It was so nice to be surrounded by students who shared my mindset and drive. Student life at TAMS was unlike anything I had experienced before – we had the freedom to rise to leadership, volunteer for countless causes, and even to form our own organizations if we wished. That freedom was probably my favorite part about TAMS since I was a co-founder of two clubs – Ballot and Eureka – and an executive of Project Smile. All three of those clubs taught me so much about leadership and life. Creating Ballot and Eureka also helped me to build close friendships with the other execs and with the juniors who succeeded us.
How did your experience at UNT and TAMS shape your career path?
Since I'm only a college freshman, I can't say that my career path is set in stone just yet. That said, my experiences at TAMS and UNT have certainly shaped my current vision for where I would like to be in the future. Each year, TAMS sends a small group of students to the Space Settlement Design Competition held at the Johnson Space Center. I was fortunate enough to be one of those students and to progress to the international level during the summer before my senior year. Going to that competition exposed me to the outer space industry and inspired me to learn more about it.
Because I was able to take over 60 hours of courses at TAMS, I now plan to double-major in Physics an International Political Economy at the University of Texas at Dallas. My dream is that one day, I will be able to contribute to the outer space economy in some way, whether that be as an entrepreneur, a scientist, an engineer, or perhaps in a career path I have yet to discover. I am thankful that I have been able to take so many prerequisite courses at TAMS because that means I will be able to more fully explore my passions in the next four years.
What was the most valuable lesson – inside or outside the classroom – that you learned at UNT and TAMS?
Before TAMS, I was always such a perfectionist. My academics always came first, and I rarely did anything fun outside of school. When I entered the academy, I struggled with this mindset. For the first time, I had the opportunity to hang out with my friends for virtually unlimited amounts of time; I had an entire campus to explore and so many new places to discover! Being away from a traditional high school helped me begin to value more holistic aspects of life; I discovered that there are so many more places to learn than a classroom.
I still love opening a new book, discussing the meaning of life in Arcadia, and reading about groundbreaking astrophysics research. But now, I also love taking walks outdoors. I love meeting new people and hearing about their life stories. I love figuring out how to climb that difficult route on the wall.  I don't just learn by observing anymore, I learn by doing – by experience, and I am so thankful that TAMS has taught me how to do that. 
Please share a memorable moment or experience from your time at UNT and TAMS.
Being a staff member at the climbing wall came with some serious perks. One of my favorite memories from TAMS was taking an experimental staff-only rappelling clinic. In the clinic, I had to climb to the top of one of the climbing towers, climb over the belay bar, and clip into the rappelling tower at the top. Then came the hard part. Once my equipment was all set up, I was instructed to step over the edge of the tower and gently lower myself to the ground.
Standing up there, looking over the entire rec center, I realized that I was still afraid of heights. My legs turned into Jello and my hands shook like nobody's business. Only with a few minutes of coaxing from my coworkers was I able to work up the courage to step over that edge. Once I did, it wasn't so bad. When my feet finally touched the ground, I remember feeling a wave of relief and pride. Not only was I the first TAMS student to have rappelled from the tower at UNT, but I was actually only the fourth UNT student to do it, according to my coworkers. That experience probably tops the cake of coolest things I've done at TAMS.
How would you describe UNT, TAMS, and Denton?
Denton is such a lovely city; I wish that I had more time to explore it. Some of my favorite memories from TAMS were going in impromptu photo shoots with my friends by all of the beautiful murals, trying out new restaurants around Denton Square, and getting lost in the old recycled book shop.
I'm really going to miss UNT as well. Over the last two years, the campus really became my home away from home. I've grown to appreciate the value UNT places on the arts and on being environmentally sustainable; it's certainly taught me to be more conscientious about the impact of my own habits on our world. The climbing and writing communities at UNT have also been very conducive to my personal growth. I remember worrying that they would judge me for my age, but that was never an issue in either community. In fact, it was nice to be surrounded by older students who were at a different stage in their lives; at times, I felt as if I had gained a community of older siblings who really cared about my well-being. I know that I will always remember my time in Denton fondly thanks to them.
If you could back and do it all again, would you still attend TAMS? What would you do differently, if anything, during your time as a student?
I would absolutely still choose to attend TAMS! The academy challenged me in ways I had never been challenged before, but those struggles helped me to develop resilience and self-worth independent of my GPA. I can't say I would do anything differently, because each of my experiences at TAMS helped me to discover and develop new dimensions of my identity.
What advice/insight do you have for TAMS alumni and students interested in your field?
Don't be afraid to fail! Learn from your mistakes instead of becoming jaded from them; your mindset will determine whether you enjoy your time here or not. Reach out to the UNT and TAMS communities, because there are so many resources out there for you to discover! Use this time in your life as a time to explore and reflect on who you really want to be. Cherish every moment you can, because these two years will fly by faster than you can imagine.