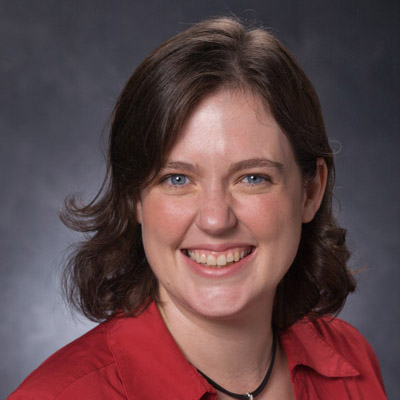 April Shelton Galyardt, Ph.D. lives in Pittsburgh, Pennsylvania where she is a Machine Learning Research Scientist for the Software Engineering Institute (CERT division). After completing the TAMS program in 1997, Dr. Galyardt continued on to earn several degrees, beginning with a B.A. in Mathematics from Texas Tech University in 1999. Galyardt then earned an M.S. in Mathematics at Northern Illinois University in 2004 and another M.S. in Statistics at Carnegie Mellon University in 2008. Dr. Galyardt remained at Carnegie Mellon University to earn a Ph.D. in Statistics in 2012.
What brought you to the Texas Academy of Mathematics and Science (TAMS)?
I was from a tiny little town with a high school that was barely 3A, and by my sophomore year, I'd already exhausted all of the math classes they offered. I needed more.
What did you enjoy most about TAMS?
The friends I made there. I think for a lot of us it was the first time we made friends that really "got us." And we had such strange adventures, even a trip to the grocery store took an odd turn when Theo discovered 10 cent limes.
How did your experience at the University of North Texas (UNT) and TAMS shape your career path?
It helped me realize what could be, what it was like to be surrounded by other people who were all working hard and working together. A community like that is a rare, precious thing in this world. When you find it in a job, you know you've found a great place to be.
What was the most valuable lesson – inside or outside the classroom – that you learned at UNT and TAMS?
There's a lot to be said for the idea that you should "do one thing, and do it well." But you need to find a balance and be a whole person. If you don't take care of yourself, you'll be miserable. This was a lesson that I started learning at TAMS, but it hit me particularly hard as an assistant professor.
If you earned a bachelor's degree, what did you do in the year immediately after graduation?
I spent a little while as a musician, then I got an M.S. in Mathematics and spent a year or three teaching community college before I went on to get my Ph.D.
Please share a memorable moment or experience from your time at UNT and TAMS.
Too many to choose from: battling with foam weapons at the park, role playing games, being introduced to Aikido, sitting around doing calculus homework together... but there was that one time we duct-taped a student to the wall of Smitty on an interview day. I swear it was his idea!
More recently, I was at the International Conference on Educational Data Mining, and there was a mini-TAMS reunion.
How would you describe UNT, TAMS, and Denton?
I'm sure it's changed a lot since I was there. But I'd be willing to bet it's still a place where there's always something going on, and where you can find adventure with your friends.
If you could go back and do it all again, would you still attend TAMS? What would you do differently, if anything, during your time as a student?
Absolutely! I think the only thing I might have done differently is when I was working in one of the physics labs, I chose "project A," and I probably should have chosen "project B." But that's not a mistake I really regret; it's the kind of mistake that sometimes you have to make in order to figure out what you really want to do.
What is your greatest professional accomplishment?
I'm most excited about what I'm going to do next.
I spent the last couple of years as a faculty member at the University of Georgia, but am starting a new job at the Software Engineering Institute at Carnegie Mellon. I'm going to be working on refining the training and assessments for men and women in the military who are on the front lines of our nation's cybersecurity.
What advice/insight do you have for TAMS alumni and students interested in your field?
"My field" is a bit unusual; it intersects statistics, computer science, psychology, cognitive science, and education. My career has me working with people in robotics, special education, human computer interaction, autism research, neuroscience and biostatistics. The future is cross-disciplinary.
So, one piece of advice I have for all of you, not just the statisticians, is to learn how to talk to scientists in other disciplines. Collaboration with good people is where you're going to do all of your best work.